'SEO Tips'
Does this topic look familiar? Hmm, the ranking agent!
But gosh, you have tried every possible hack to improve your website rankings, and – all in vain. On the other hand, your competitor, with the least quality product, is already ruling the search engines.
You are convinced to believe that his site's ranking, bounce rate, CTR, domain authority and organic traffic are supported by some black magic.
Let us break it to you – it's not magic black; it's the correct use of SEO strategies!
Implementing SEO to the website has become a new norm, and we believe there's no longer a need to emphasis the importance of search engine optimization. But many fail to understand that there's a fine line between putting the right practices into use and using black hat ways to succeed.
Also, you need to be very patient if you have plans to reap long-term benefits. That's because SEO doesn't have any low-hanging opportunities. It's very easy to feel exhausted and demotivated, but remember – these are just initial hiccups.
So this blog is about exploring the best 5 tips to improve your website's SEO in 2024. Since this ranking agent is an ever-changing beast, we have decided to round up the latest strategies to help you improve your website.
Proven Tactics to Improve a Website's SEO
Make Your Site Load at a Bullet Speed
A site's loading speed has an immediate impact on SEO & rankings.
The digital marketing guru Neil Patel has focused enough on the website's speed and influence on rankings. His study reveals that websites at the top of search engines tend to load faster than web pages ranking at the bottom of the page.
Also, sites that load slower tend to have a higher bounce rate. That's because the audience is always in a hurry and expects everything in a single tap. When a web page takes forever to load, they annoyingly leave the page and land on the competitor's site.
Imagine you offer academic writing services, and an anxious student wishes to tell you to write my essay. But your site took ages to load. The impatient soul will instantly hit the back button & ask another expert to do so.
You can evaluate the loading speed of your web pages using Google's Page Speed Insights.
Here's what the diagnosis would look like: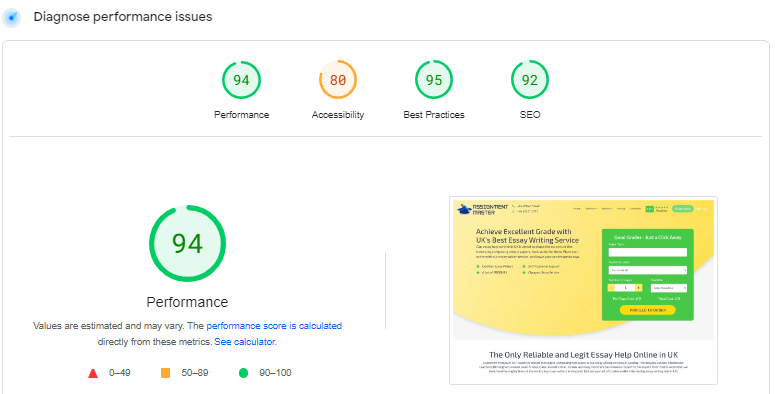 And if you believe your site's speed isn't qualifying for success, here are a few fixes you can make:
Pick the right host
Compress the website's images
Compress web page file size
Remove non-essential 3rd party scripts
Snippet Bait
It's a dream come true for websites to appear on featured snippets. Who doesn't want to be at the top of the search results?
But, it can be hard at times because not everyone knows how to rank on a snippet.
Yes, writing valuable content is the prerequisite, but a few more strategies need to be put into use to get featured. See how nicely the snippet summarizes the answer.
Here's the tried and tested way to show up on snippets:
Evaluate the keyword that your site is already ranking for. Make sure the selected keywords rank you on the first page
Now, see the current featured snippet against the keyword you have selected
Identify the type of snippet. It could be a para, table, video or listicle
Take inspiration from the currently featured snippet, and add content to your site according to it. For example, if it's a listicle, add a listicle to your page exactly in a way that could fit the Featured Snippet box.
And BOOM! Within weeks, you'll have your site featured in the snippet.
Update Your Content Regularly
Updated information is bound to build authority and give a fresh boost to your site.
Search for pages that have not been updated for 8+ months. But there's no set time frame regarding how frequently you should be updating your content. If your industry is always evolving, consider updating content more frequently. Otherwise, doing so once in 8 months is enough.
For instance, this blog was uploaded approx. 2 years ago.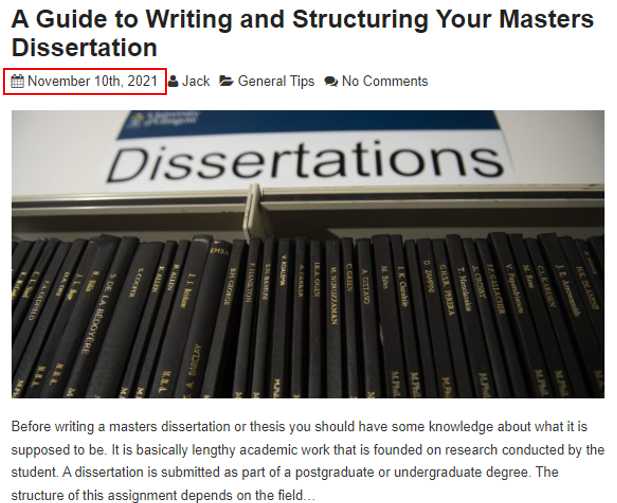 Considering the ever-evolving nature of academics, the chances of upgradation in dissertation writing are very high. And not just in terms of content but also in terms of keywords and visuals, it is important to update the post.
But you shouldn't be removing any keyword that ranks the blog or content. For instance, if you offer academic writing services and your site ranks on the keyword cheap assignment help London, consider leaving it as it is and look for other upgrades to the blog.
Push the changes live and hit the Request Indexing button so Google can send crawlers and make your site rank.

Updating content will also deliver a sense of relief to your audience that they are navigating a legit page holding accurate information. This will improve the bounce rate, making search engines realize that your audience loves your site, and you'll eventually get better rankings!
Moreover, using closely related words in titles and within content is another secret hack to satisfy ranking factors. Adding related words gives a better understanding to the search engine about what your web page is about. For instance, if you offer academic writing services, and your site ranks for the keyword 'BEST BRITISH ASSIGNMENT HELP IN UK', consider adding the related terms. The bold words are the related ones that should be added to H1, H2 and content's body.
The screenshot below reveals how you can find the related terms.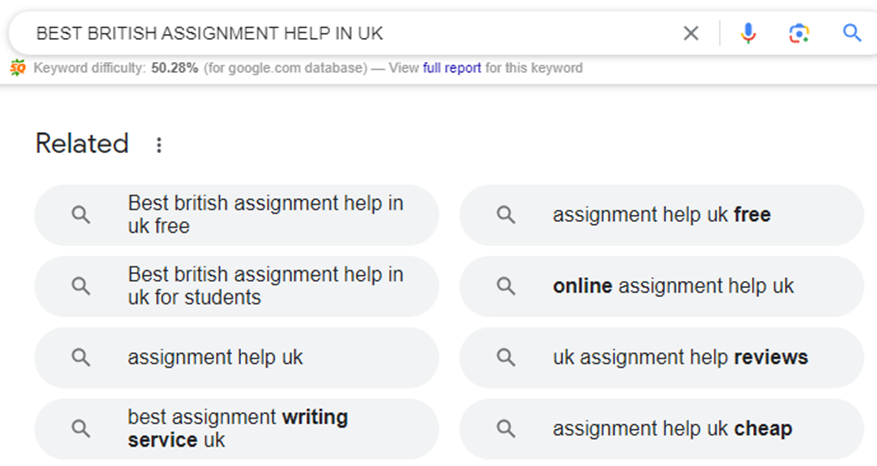 Don't Forget Mobile Friendliness
The era is taken over by mobile phones. For that reason, 9 out of 10 people tend to search using their mobile phones.
Imagine, who'd actually turn to their laptops, switch on them, open the browser and look up for a query when the entire process can be cut to just one step using a mobile phone?
Also, Google takes mobile friendliness very seriously. If your site isn't optimised for mobile – we are sorry, you are going to be nowhere in rankings.
To ensure your site is working perfectly on mobile devices, you can evaluate your site using Google's Mobile-Friendly Test.
This is how the report would look like:

But despite receiving the green tick, there could be underlying loading speed problems with the mobile version of your site. Just to add an extra layer of assurance, make your site's URL run through Search Console's Core Web Vitals.
Search Console sends a signal to the website owner if it comes across some mobile usability issues. Therefore, you won't have to check this back & forth just for the sake of staying updated.
Optimised Images
Image optimization is usually brushed under the rug because many believe that putting up an image is enough to make search engines fall in love with the site. However, that's not true. In order to drive traffic, images need to be optimised.
Also, the idea of adding images is usually limited to uploading relevant, fun infographics. Doing so would help you to some extent only. In order to harness the complete power of images, consider adding images that summarizes the content for your audience. Like SEMRUSH do it for their audience: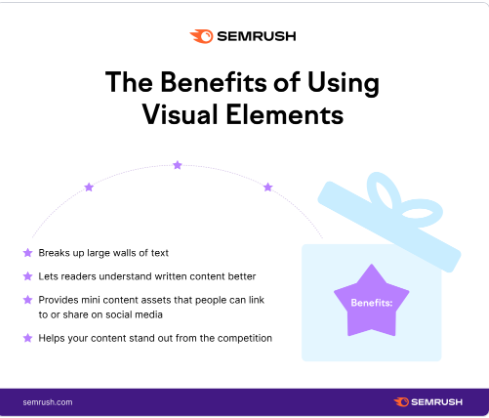 Moreover, image optimization includes: guaranteeing the right image size, correct descriptions (alt text), copyright and mobile friendliness.
Here are a few tricks to write the best and most impactful alt tags for your images:
Supply as much description as you can. Imagine you are explaining an image to someone who can't see the image
Detailed descriptions don't mean you'd stuff irrelevant information. Rather, put in relevant and right explanation
Each tag needs to be 100% unique
Make the alt tags keyword-friendly. Incorporate right and trending keywords so they can contribute to the ranking
Winding Up the SEO Checklist
Although improving site's SEO isn't going to happen magically overnight, staying consistent with the practices will surely pay you off. We have compiled the best 5 tips to improve your website SEO and hope this blog will help you rule the search engines.